Harriet Okatch, PhD, MPH
Assistant Professor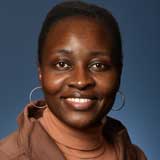 Contact
901 Walnut Street
10th Floor
Philadelphia , PA 19107
Harriet Okatch, PhD, MPH
Assistant Professor
Research & Practice Interests
Lead Poisoning
Global Health
Traditional & Herbal Remedies
HIV Medication Adherence
Education
PhD, University of Botswana
MPH, University of Pennsylvania
BSc, University of Botswana 
Publications
Scopus Feed has no publications.
Teaching
Fundamentals of Environmental Health
Global Health
Biography
Dr. Okatch earned a BSc and PhD in Analytical Chemistry from the University of Botswana, Botswana. Her research in the area of HIV/AIDS led her to pursue MPH studies at the University of Pennsylvania. Her research includes chemistry-only projects, applied chemistry in public health, and public health-only projects. 
Her current research focuses on the prevention of childhood lead poisoning through education, residential interventions and policy. In this work, she collaborates with several organizations including healthcare facilities, organizations providing social services, and local governmental agencies. She conducts this work locally in Lancaster and globally in both Botswana and the Dominican Republic.

Dr. Okatch is a member of the Lancaster Lead Coalition and is also the co-chair of the state-wide Lead Free Promise Project.