Alexis Skoufalos, EdD
Associate Professor
Associate Dean, Strategic Development
Program Director, Doctor of Health Science (DHSc) in Population Health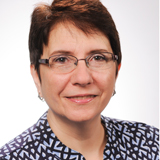 Alexis Skoufalos, EdD
Associate Professor
Associate Dean, Strategic Development
Program Director, Doctor of Health Science (DHSc) in Population Health
Research & Practice Interests
Professional Development
Medical Education
Quality Improvement
Patient Education and Engagement
Staff Recruitment and Retention
Education
EdD, Nova Southeastern University
MS, Nova Southeastern University.
BS, Temple University
Publications
UNIVERSITY APPOINTMENTS
Associate Professor, Jefferson College of Population Health
Associate Dean, Strategic Development, Jefferson College of Population Health
Program Director, Doctor of Health Science (DHSc) in Population Health


BIOGRAPHY
Dr. Alexis Skoufalos is Associate Dean for Strategic Development at the Jefferson College of Population Health, where she is responsible for facilitating external partnerships and collaborative initiatives. Her team implements the school's professional development activities, including expert panel roundtables, conferences and symposia. She also oversees the College's external communications, including the College's affiliated peer-reviewed journals and newsletters, blog and social media.
In addition to her responsibilities at JCPH, she serves as co-chair of the Steering Committee for the Jefferson Office of Continuing Professional Development, is a member of the enterprise Innovation Evaluation Committee, and serves on the Academic Advisory Committee for the university's Institute for Emerging Health Professions.
Dr. Skoufalos served as Co-Editor of Practicing Medicine in the 21st Century (2006), Medical Quality Management: Theory and Practice (2009), Health Care Quality: The Clinician's Primer (2011) and, most recently, Population Health: Creating a Culture of Wellness (2nd edition). She has been the primary author of articles and editorials related to medical education, quality improvement, patient education and engagement, and staff recruitment and retention. She is Associate Editor for American Journal of Medical Quality and serves on the editorial boards of Population Health Management, Population Health Insider and American Health & Drug Benefits. She is also a reviewer for American Journal of Managed Care and the BMJ Open Quality Journal.