Philadelphia Diabetes Prevention Collaborative
Approximately 1 in 3 adults in the United States has prediabetes. 
90% of them don't even know they have this reversible disease.

It's Time to Take a Stand
2000 in 2020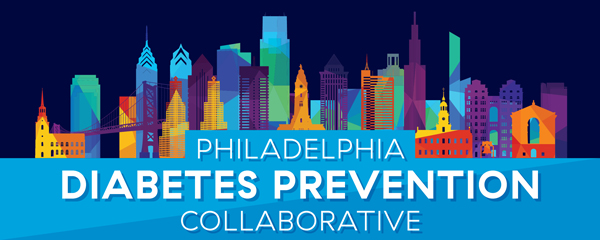 Philadelphia Diabetes Prevention Collaborative
The National Diabetes Prevention Program (National DPP) was created to address the increasing burden of type 2 diabetes. The Program focuses on behavior changes related to healthy eating and physical activity. Research has shown that its participants can reduce their risk of developing type 2 diabetes by 58% (71% for people over 60 years of age). 
With the support of the AMA and CDC, we established the Philadelphia Diabetes Prevention Collaborative (PDPC), a group of local stakeholders working to design multi-pronged public health efforts to prevent Type2 Diabetes and enroll 2000 participants in 2020.
Health Care Professionals: Join us on September 9 at 8 am
This session will bring awareness to healthcare providers of the Greater Philadelphia region about the goals of the Jefferson Philadelphia Diabetes Prevention Collaborative, the recommendations on screening, testing and referring to National Diabetes Prevention Programs, how to refer patients to programs in the community and  the work of the collaborative to increase capacity, availability and sustainability of programs. 
The first of two webinars was held on July 15th. The webinar recording and slides are available for your reference and to share with your colleagues on our Jefferson Digital Commons page.
Want to Start Your Own Diabetes Prevention Lifestyle Change Program?
Join health care organizations across the country who are collaborating with the AMA and CDC to offer a National DPP lifestyle change program for their patients.
Visit the AMA DPP Cost Savings Calculator to estimate the health and economic benefits of offering the National DPP lifestyle change program.