Occupational Therapy Newsletter
Message from the Chair
Built from the legacies of two renowned institutions, Philadelphia University and Thomas Jefferson University, Jefferson is crossing disciplines to reimagine the way our students learn. As a National Doctoral Research University, Jefferson continues to serve our communities and to grow with the needs of our students. 
Our department is part of the new College of Rehabilitation Sciences. The College is focused on educating students to provide high-quality care that will integrate people back into their communities and supporting faculty in scholarship that advances evidence and practice across settings.
As the university and college evolve, the Department of Occupational Therapy has also experienced renewal. We have knitted together a team that spans two campuses and supports four unique programs serving a diverse set of learners in different stages. We've also centralized procedures, combined resources and now provide even more opportunities for collaboration for students and faculty.
It's an exciting time in the department, and I look forward to continuing to share our accomplishments, research and collaboration.
Catherine Verrier Piersol, PhD, OTR/L, FAOTA
Chair and Professor
Department of Occupational Therapy
Thomas Jefferson University
American Occupational Therapy Association Conference
We're looking forward to attending the American Occupational Therapy Association (AOTA) conference this year in Boston, MA. Find us at booth # 1047. We're excited to present an exhibitor-sponsored seminar, "Using Design in Practice: Building your Occupational Therapy Toolkit" and hope to see you there!
With shifting reimbursement models, the multifaceted practitioner who leverages design and technology will stand apart from other healthcare professionals. Presented by trained designers who are also practicing occupational therapists, this seminar will highlight the interconnection between healthcare and design as well as opportunities it provides to advance your practice. Join us to learn more! 
Paving the Road to Leadership
Mentorship is important to MJ Mulcahey, PhD, OTR/L, professor and director of the new Center for Outcomes & Measurement. She involves junior faculty and entry-level OTD students in her work. Namrata Grampurohit, PhD, OTR/L, is an assistant professor for the Department of Occupational Therapy who works closely with Dr. Mulcahey in the Center
Dr. Grampurohit received funding as a co-investigator through the Dean's Transformational Science Award under the mentorship of Dr. Mulcahey (principal investigator) to study perceptions of individuals with neurological conditions, their caregivers and healthcare providers regarding neurotechnologies for the upper limb. This research will provide insight on the priorities of stakeholders as well as the barriers and facilitators they experience when adopting novel neurotechnologies such as transcranial magnetic stimulation, transcranial direct current stimulation, powered orthoses, and brain computer interfaces.
 
Promoting Participation in Daily Life through Community Engagement
Nationalities Service Center
Stephen B. Kern, PhD, OTR/L, FAOTA, professor and director of our MSOT Program, Center City, works with the Nationalities Service Center (NSC), a community-based non-sectarian organization that provides services to immigrants, refugees, and other displaced persons. Dr. Kern partnered with NSC 10 years ago; pairing together newcomers to Philadelphia with occupational therapy students enrolled in our Environmental Competence in Action course .
NSC was so impressed with the collaborative work conducted by the occupational therapy students and refugee clients that they initiated the expansion of occupational therapy services. In 2016, Dr. Kern & NSC successfully launched the Level II Fieldwork experience, soon followed by Level I Fieldwork students who are supervised by the Level II students. In September 2019, the first pair of doctoral students began their capstone experience at NSC.
Due to language barriers and unfamiliarity with U.S. customs and culture, many of these individuals experience difficulty participating in everyday activities in an American context, such as using public transportation, scheduling appointments, withdrawing money from an ATM, going to the bank to pay a bill, and other activities that require financial management. Students design and implement group and individual treatment of upgraded complexity to enhance the newcomer's participation, socialization and satisfaction in their new community.
Project HOME
Tina DeAngelis, EdD, OTR/L, Associate Professor and Director of our OTD Program, Center City, has developed multifaceted occupational therapy programming at Project HOME, a non-profit leader in providing comprehensive and effective services to persons who experience chronic homelessness. Dr. DeAngelis has supervised fieldwork and doctoral capstone students who provide programming at multiple locations across the Philadelphia area. Project HOME stands for Housing, Opportunity, Medical Care & Education.
Jefferson's Occupational Therapy programming has touched many aspects of the organization ranging from Occupational Therapy student volunteer efforts, Level I & II Fieldwork, after school programming and doctoral capstone projects focusing on the soft skills necessary to maintaining employment with young adults aging out of foster care at Pennsylvania's (and the nation's) first LGBTQ-friendly affordable home setting. In collaboration with Rebecca Sinko, OTD, OTR/L, Assistant Professor, Dr. DeAngelis delivers, 1:1 and group interventions with our Occupational Therapy students at safe havens and permanent supportive housing sites to include initiatives such as: aging in place, fall prevention, after school programming, and health and wellness.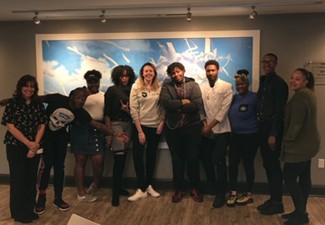 This is an image from a capstone project developed with OTD graduate, Dr. Josephine Beker (JCRS '19), with young adults and staff, participating in a grant from PECO Exelon where Occupational Therapy group programming addressed obtaining, maintaining employment through goal attainment scaling and perceived stress.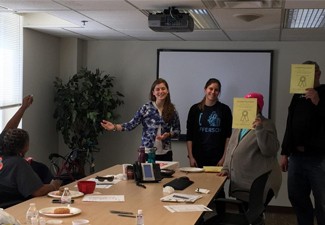 This is an image taken from an OTD capstone project with older adults who desired to increase social participation,work and volunteer opportunities measured by the Worker Role Interview, led by OTD graduates, Drs. Eliza Brooks (JCRS '19), and Alex Logue (JCRS '19).
Supporting Learning & College Life through GOALS2
The GOALS2 program, developed and coordinated by Dr. Marie-Christine Potvin, PhD, OTR/L, is a Department of Occupational Therapy-led program designed to help Jefferson students with disabilities from the East Falls campus reach their academic learning and living goals.
The program, now in its third year, supplements the services received by students through the Office of Accessibility, the Academic Success Center, and the Counseling services. The GOALS2 program also serves as a Level II Fieldwork site since Occupation Therapy students are the primary service providers for the students with disabilities. Preliminary results suggest that the program, which uses Coaching-in-Context as its primary approach, is effective in supporting students in reaching their own goals through an empowering self-discovery process.
Alumni Highlights
Briana Elson, MS, OTR/L ('15), presented at the American Congress of Rehabilitation Medicine Conference in Chicago, IL. Her research focused on implementation and feasibility of using a mCIMT protocol for a patient with severe cognitive impairment in the inpatient rehabilitation setting. This research was conducted during her tenure as a Neurologic OT Fellow through the Brooks Institute of Higher Learning. 
Mikael Avery, MArch, MS, OTR/L, is an educator, design professional and licensed occupational therapist. He has developed and taught graduate-level design courses at several Philadelphia academic institutions on topics including architecture, digital fabrication, industrial design, human factors, design research, clinical skills and interdisciplinary healthcare innovation.
Currently, as an occupational therapist, Mike works to create client-centered care plans that support an individual's participatory goals while residing in their local community. Through his clinical and design work, teaching and research, Mike is dedicated to bringing together the fields of design and health care in order to promote design that is focused on wellness, uncovers new opportunities to influence health, and reimagines the healthcare system