Christopher J. Farrell, MD
Associate Professor, Neurological Surgery
Director, Neurological Surgery Residency Program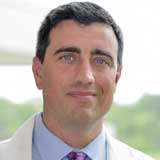 Contact
909 Walnut Street
2nd Floor
Philadelphia, PA 19107
215-955-7000
215-503-9357 fax
Christopher J. Farrell, MD
Associate Professor, Neurological Surgery
Director, Neurological Surgery Residency Program
Education
Medical School
MD, Temple University School of Medicine

Residency
Department of Neurosurgery, Massachusetts General Hospital, Emory University

Fellowship
Cranial Base Neurosurgery, Methodist Hospital, Mepmphis TN
Research Fellow, Brain Tumor Research Center, Massachusetts General Hosptial 
Publications
Scopus Feed has no publications.
Hospital Appointment
Thomas Jefferson University Hospital
Methodist Hospital Division of Thomas Jefferson University Hospital
Expertise & Research Interests
Dr. Christopher Farrell is an Assistant Professor of Neurological Surgery with expertise in the management of benign and malignant brain tumors such as meningiomas, acoustic neuromas, pituitary tumors, and glioblastoma. He specializes in approaching these tumors with minimally invasive techniques including endoscopic endonasal surgery and stereotactic radiosurgery (e.g., Gamma Knife). Dr. Farrell also maintains a very active clinical practice treating other neurologic disorders including Hydrocephalus, Chiari Malformations, Hemifacial Spasm, and Trigeminal Neuralgia. He also serves as associate program director for the Jefferson neurosurgery residency program.
Other Expertise
Trigeminal Neuralgia
Hemifacial Spasm
Glossopharyngeal Neuralgia
Chiari Malformation
Hydrocephalus
Keywords
Neurosurgery; Brain Tumors; Glioma; Low Grade Glioma; Glioblastoma; Meningioma; Brain Metastasis; Pituitary Adenoma; Acromegaly; Prolactinoma; Craniopharyngioma; Skull Base Surgery; Endoscopic; Minimally Invasive; Radiosurgery; Gamma Knife; Acoustic Neuroma; Pineal Tumor; Trigeminal Neuralgia; Hemifacial Spasm; Glossopharyngeal Neuralgia; Hydrocephalus; Chiari Malformation