Sidney Kimmel Medical College
Department of Neurological Surgery
Leaders in the Field of Neurosurgery Start Here
Recognized as one of the most academically productive residency programs in the country, The Sidney Kimmel Medical College Department of Neurosurgery is seeking hard-working and highly-qualified candidates to join us. Led by our esteemed faculty that includes industry experts, our divisions provide unique and challenging opportunities in helping you achieve your educational and research objectives within the field of neurosurgery. 
Looking to make an appointment or find out more information about a condition or office location?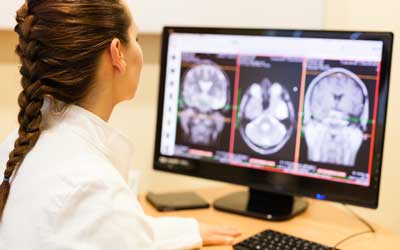 Residency Program
The Department of Neurological Surgery at Thomas Jefferson University Hospital builds on a storied history – in the late 19th century, W.W. Keen performed the first successful brain tumor resection here at Jefferson Medical College – and now is one of the leading neurosurgical centers in the country. The neurosurgery residency training program at Thomas Jefferson University Hospital prides itself in training excellent academic and clinical neurosurgeons, by offering residents a broad exposure to a large and diverse number of operative procedures spanning the breadth of neurosurgery.
Fellowship Programs
We offer SNS/CAST-accredited fellowships in: