Robert H. Rosenwasser, MD, MBA
Jewell L. Osterholm Professor and Chair, Neurological Surgery
Professor, Radiology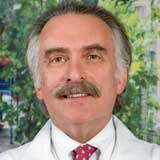 Contact
909 Walnut Street
3rd Floor
Philadelphia, PA 19107
215-955-7000
215-503-7038 fax
Robert H. Rosenwasser, MD, MBA
Jewell L. Osterholm Professor and Chair, Neurological Surgery
Professor, Radiology

Education
Medical School
MD, Louisiana State University - New Orleans 
MBA, Villanova University 
Residency
Temple University Hospital
Fellowship
New York University Medical Center
University of Western Ontario, Canada
Publications
Board Certification
Hospital Appointment
Thomas Jefferson University Hospital
Kennedy Health System
Expertise & Research Interests
Dr. Rosenwasser is among the country's first dually trained cerebrovascular neurosurgeons, meaning he is able to treat diseases of the brain's circulatory system using both conventional surgical methods and minimally invasive interventional radiology techniques. As a cerebrovascular neurosurgeon, he treats patients who have had strokes, aneurysms, AVMs, and carotid artery stenosis.
Dr. Rosenwasser also serves as president of the Vickie and Jack Farber Institute for Neuroscience and is responsible for strategic directions in neuroscience.
He worked to establish the Jefferson Neuroscience Network (JNN)—a telemedicine system that affords Jefferson stroke physicians the ability to remotely assess and make treatment recommendations for people with suspected stroke throughout the region.
In 2014, the American Association of Neurological Surgeons awarded Dr. Rosenwasser the Cushing Award for Technical Excellence and Innovation in Neurosurgery, which recognized his career-long effort to include interventional radiology techniques in neurosurgical training. 
Keywords