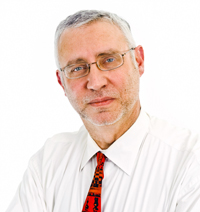 As the world of education evolves and adapts amid the COVID19 pandemic, now more than ever, Jefferson must provide support, stability, and community for the students and faculty it serves. A university with an inventive, inspired, and supported faculty translates into an enthusiastic and engaged student body. No team understands that better than Jefferson's Center for Faculty Development and Nexus Learning.
The Center, formed last fall, dedicates its work to supporting faculty across the university, "as they prepare graduates who are adaptive, lifelong learners, capable of embracing the fields of tomorrow."
The Center's brain trust consists of four experts in online learning, classroom pedagogy, instructional design, health professions education, and assessment. To learn more about the Center, we interviewed each member of the team. First on our list is Dr. Chris Pastore.
Q: You wear many hats at Thomas Jefferson University. Briefly explain what your title means and how you view your role.
I have two primary roles – Professor of Transdisciplinary Studies and Assistant Provost for Faculty Development: Nexus Learning and Classroom Pedagogy.
As a professor, I teach courses at the undergraduate and graduate level, primarily in engineering, but also systems thinking, statistics, integrative design process, and more. I've taught traditional lectures, laboratories, studios, flipped classrooms and online courses.
As an assistant provost, I support the faculty in their professional development as it relates to classroom teaching as well as cultivate the principles of Nexus Learning. We have extraordinary faculty who are doing amazing things. I facilitate the communication amongst the faculty to share their experiences, link faculty with mutual interests, and work one-on-one with any who wish.
You've worked at Thomas Jefferson University (and formerly Philadelphia University) for over 25 years! How has your role evolved?
My connection actually goes back to 1978. When I was an undergraduate student, studying at LaSalle University, I worked for a professor at Philadelphia College of Textiles and Sciences (PCT&S), writing software for textile engineering research projects. I joined PCT&S in 1995 as an Assistant Professor of Textile Engineering and Director of Research for the School of Textiles.
I became interested in sustainable materials for the built environment and developed a research group with Rob Fleming from the College of Architecture and the Built Environment – the Engineering and Design Institute. We ran a multi-university research team funded by the commonwealth of Pennsylvania, worked with a wide array of industry to help them with new sustainable product design, developed the MS in Sustainable Design, ran a podcast, and organized conferences.
Shortly after we became Philadelphia University, I helped develop DEC Core. I was a founding instructor for the Integrative Design Process course and collaborated with professor Jeff Klemens to develop the systems thinking core and corresponding textbook for Ecoinnovations and Systems Thinking.
When the opportunity to serve as Nexus Learning Advocate for the Kanbar College of Design, Engineering, and Commerce presented, I jumped at the chance to explore pedagogy and its implementation across campus. I then got to know the faculty at a different level, learning from their experiences and sharing ideas on how to improve difficulties in the classroom.
What do you enjoy most about working at Jefferson?
The people are the best aspect of Jefferson. The students are eager to learn and bring an enthusiasm that is infectious. The staff are welcoming and talented. The faculty are engaged and supportive, with few disciplinary barriers – open to collaboration and sharing. I jokingly say, "Every day's a holiday at Jefferson!", but it stems from a reality that I enjoy going to work and interacting with the community.
We're very excited about the (somewhat) newly developed Center for Faculty Development and Nexus Learning. As the Assistant Provost for Nexus Learning and Classroom Pedagogy, what is your role within the Center?
I am the point person for Nexus Learning and classroom pedagogy. To be clear, the team has expertise in all aspects of faculty development, but each of us has taken on the role of point person for specific topics. Because I've been involved in the development and branding of Nexus Learning for years, it was natural for me to accept that function. And with 32 years of classroom teaching experience, it was natural for me to handle point on classroom pedagogy issues.
I enjoy engaging with my colleagues, and will continue the Talking Teaching sessions* where we routinely get together as faculty and discuss various topics associated with teaching and learning. Even during this stay at home period, we're keeping our community vibrant with both synchronous and asynchronous socialization, including weekly online sessions, a Canvas page, and a Slack channel.
What impact do you hope to have on the university's faculty (and students)?
One of the great things about Jefferson is that we have faculty who are enthused about teaching. I want to facilitate these educators to explore more options, share their experience with colleagues, and have a mechanism to learn from each other. When we get together we become better teachers. And when we are better teachers our students have a better learning experience.
My goal is to help Jefferson educators realize their potentials.
What is something people would be surprised to learn about you?
I enjoy playing music. I play piano with the Straight Ahead Big Band and the Rendition Big Band, and I am a regular substitute for the Sounds of Swing. I play keyboards with the Blue Chips Trio – a pop nostalgia group. I play clarinet, saxophone, and flute in pit orchestras for musicals, and every summer, I play saxophone with my old college band. I also advise the Jefferson Jazz Band here on the East Falls campus.
*Email Chris to learn more about the Talking Teaching sessions, faculty Slack channel, and Canvas page*