Barbara Klinkhammer, RA (DEU), Dipl-Ing
Executive Dean of the College of Architecture and the Built Environment
Professor, Le Corbusier and Color Theory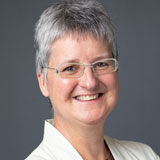 Contact
Architecture & Design Center Room 204

Barbara Klinkhammer, RA (DEU), Dipl-Ing
Executive Dean of the College of Architecture and the Built Environment
Professor, Le Corbusier and Color Theory
Education
Dipl-Ing, Architecture, RWTH Aachen
A successful administrator, accomplished scholar, design teacher and architect, Barbara Klinkhammer became Executive Dean of the College of Architecture and the Built Environment at Thomas Jefferson University in August 2012. She is recognized as a thought leader in architecture and urban design, as well as a women pioneer in the fields of architecture and construction. Klinkhammer came to Jefferson from the University of Tennessee, Knoxville, where she served as a tenured professor in several administrative roles including Associate Dean, Chair of Interior Design, and Chair of the Graduate Architecture Programs. Prior to coming to the United States in 1999, Professor Klinkhammer taught for five years at the Bauhaus University in Weimar, Germany. 

As an accomplished scholar, her research focuses on the 20th century architect Le Corbusier and on color in the built environment. She has numerous successfully funded grant proposals, peer-reviewed publications and design competition awards to her name. She was a Co-PI for the UT solar house 'Living Light', an award-winning project sponsored by the US Department of Energy and exhibited at the 2011 Solardecathlon Competition on the National Mall in Washington. Currently, she is working on her forthcoming book After Purism: Le Corbusier and Color.

Klinkhammer brings a deep understanding of the contemporary professional design world and a timely vision of the future of design education. She actively takes part in the discourse of contemporary architecture through practicing and participation in international design competitions. She holds a terminal degree in architecture from the RWTH-Aachen, one of Germany's leading research universities. She is a registered architect in Germany and Europe, and has practiced in Europe, Asia and the Middle East.

Klinkhammer served on several national boards including the Architectural Research Centers Consortium (ARCC) and the Southeast Chapter of the Society of Architectural Historians (SESAH) Board of Directors. Additionally, she served as co-editor of ARRIS, the journal of the Southeast Chapter of the Society of Architectural Historians (SESAH). She is a 2010 alumna of the HERS Bryn Mawr Summer Institute for Women in Higher Education and serves on the Women's Leadership Council of the Association of Collegiate Architecture Schools (ACSA).
Areas of Expertise: 
Color Theory
Le Corbusier + Color
History / Theory of Early Modernism & Modernism
Preservation of buildings from the early modern period
Smart and Healthy Cities
Energy efficient buildings 
Design thinking
Strategic planning
Curriculum development for programs in the built environment