Karen Walsh, DHSc, MS, MBA, PStat
Lecturer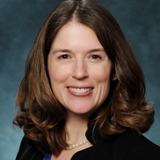 Contact
901 Walnut Street
10th Floor
Philadelphia, PA 19107
Karen Walsh, DHSc, MS, MBA, PStat
Lecturer
Research & Practice Interests
Predictive Modeling
Clinical Informatics
Health Services Research
Multiple Sclerosis
Education
DHSc, University of Indianapolis
MS, Northwestern University
MBA, Pennsylvania State University
BA, Dickinson College
Publications
Scopus Feed has no publications.
Teaching
Statistics I 
Data Science I
Health Data Science Capstone Seminar & Project
Certifications
Accredited Professional Statistician  -  PStat®      
Biography
Dr. Karen Walsh is a statistician and a Lecturer at JCPH. Dr. Walsh's research focuses on predictive modeling, clinical informatics and health services. Her most recent research is around multiple sclerosis (MS) and focuses on geographic variation in MS care, quality, value, and predicting clinical endpoints. More specifically, from her recent dissertation which compared traditional statistical modeling approaches versus predictive analytics methods for predicting MS relapse and all-cause urgent care.             
Dr. Walsh has taught advanced statistics courses at JCPH, mentors JCPH Outcomes Research Fellows and serves as a chair on master's Capstone Projects. Dr. Walsh earned her DHSc from University of Indianapolis with a focus in Statistics and Data Science, MS from Northwestern University in Predictive Analytics, and has an MBA from Pennsylvania State University. Before coming to Jefferson, Dr. Walsh held positions at Independence Blue Cross, UnitedHealthcare and Optum.