Preeti Zanwar, PhD, MPH, MS
Lecturer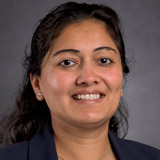 Contact
901 Walnut Street
10th Floor
Philadelphia, PA 19107
215-503-0174
215-923-7583 fax
Preeti Zanwar, PhD, MPH, MS
Lecturer
Research & Practice Interests
Health Economics & Health Services Research
Cognitive Aging
Gerontology
Cancer Screening
Connected Technology
Education
Post-Doctoral, University of Texas Medical Branch
PhD, UTHealth School of Public Health
MPH, UTHealth School of Public Health
MS, University of Houston Clear Lake/Baylor College of Medicine
Publications
CERTIFICATIONS
Health Economics & Outcomes Research, University of Washington
Measurement, Design, & Analysis Methods in Health Outcomes Research, Harvard T.H. Chan School of Public Health
UNIVERSITY APPOINTMENTS
Lecturer, Jefferson College of Population Health
TEACHING
Economics of Health Insurance
Epidemiology
BIOGRAPHY
Dr. Preeti Zanwar is a health economist, educator, and research scientist with 20 years of interdisciplinary research experience in basic and social sciences, public health, and population health at two medical schools (Baylor College of Medicine and University of Texas Medical Branch) and two public health institutions (UTHealth & Texas A&M University School of Public Health). She enjoys writing and leading research proposals and has served as health economics consultant/scientist on research grants. She is an Instructional Assistant Professor at the Department of Epidemiology & Biostatistics at the Texas A&M University, where she is an affiliate faculty/fellow at the Center for Population Health & Aging and the Center for Health Systems and Design. She is an invited member of the Network of Life Course Health Dynamics & Disparities in the 21st Century America at the University of Michigan.
She has experience working with Medicare claims, SEER, Medical Expenditure Panel Survey, U.S. Health & Retirement Survey and in Longitudinal Aging Study of India. Her prior research has been funded by NIH/National Cancer Institute and National Institutes of Aging. She was a recipient of NIA funded T32 Ruth L. Kirschstein National Research Service Award in Minority Aging (NIA), and was scholarship recipient for the RAND Summer Institute in Aging at RAND Corporation, Santa Monica, CA and Butler-William Scholar Program at NIA, Bethesda, MD. Her research work has been published in Value in Health, Gerontologist, Innovation in Aging, Disability & Health, Archives of Physical Medicine & Rehabilitation, Journal of Infectious Disease, Transplantation, and cited more than 350 times. Her recent projects have examined access to evidence-based clinical preventive services in younger and older adults with physical and cognitive limitations. She is currently investigating trends in co-morbidities and disability type by race-ethnicity in the U.S.
Dr. Zanwar has facilitated AHE 501 Economics of Health Insurance for a diversity of learner backgrounds, master's and doctoral learners and those with extensive professional and practical experience in academia and industry. She enjoys mentoring medical and public health professionals in their research projects.