Jeremy J. Blanchard, MD, MPH
Lecturer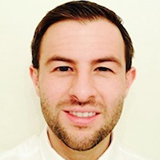 Contact
901 Walnut Street
10th Floor
Philadelphia, PA 19107
Jeremy J. Blanchard, MD, MPH
Lecturer
Research & Practice Interests
Health Economics
Infectious Disease Epidemiology
Addiction Medicine
Maternal and Child Health
Education
PhD Candidate, Population Health Science, Thomas Jefferson University
MD, Quillen College of Medicine, East Tennessee State University
MPH, Epidemiology of Microbial Diseases, Yale University
Teaching
Fundamentals of Epidemiology
Foundations of U.S. Healthcare System 
Biography
Dr. Blanchard attended Lee University where he obtained degrees in Biochemistry and English. During his studies he worked on NASA-funded research studying the effects of microgravity on bone loss in astronauts. He then obtained an MPH at Yale University focusing on the epidemiology of microbial diseases. While there he focused on the attenuation of influenza transmission as well as research funded by USAID assessing emerging pandemic threats.
Dr. Blanchard attended medical school at the James H. Quillen College of Medicine at East Tennessee State University. He then started his career in General Surgery residency at the University of Maryland Medical Center before switching to Family Medicine at the same institution in order to facilitate his broad clinical and research interests. He served as chief resident. He is heavily involved in research and is completing his PhD in Population Health Science at Thomas Jefferson University in Applied Health Economics and Outcomes Research. His research interests include health economics, infectious disease modeling, and economic mobility. His clinical interests include addiction medicine, HIV/AIDS, viral hepatitis, women's health, and maternal and child health.
As a physician scientist, Dr. Blanchard is passionate about bridging the gap between health economic research and durable, salient policy. He is a dedicated educator with experience teaching medical students, residents, and public health students.