The Value of a Jefferson Degree
Jefferson undergrads have again achieved over a 96% employment and grad school success rate — while a new report found a 100% employment and grad school success rate among College of Architecture & the Built Environment, College of Health Professions, College of Humanities & Sciences and College of Life Sciences programs. U.S. News & World Report has also recognized Jefferson among "10 National Universities Where Grads Are Paid Well."
Jefferson Elects Patricia D. Wellenbach as Board Chair
As a future-focused enterprise, where innovation and creativity are fundamental, Jefferson is ushering in a Board of Trustees governance structure that is ready to meet the unique and evolving oversight demands of this thriving enterprise.
Nexus Learning Nurtures Students' Creative Sides
Unique learning opportunities at Jefferson set our education apart. Students are immersed in a world of limitless potential through an active, collaborative, hands-on method we call Nexus Learning. These practical experiences are infused into everything we do—including our "Hallmarks Program" and our "Creativity Core Curriculum."
Jefferson in Space
Thanks to the Jefferson Israel Center's innovative relationship with Sheba Medical Center, four scientific experiments were selected for a 2022 mission to the International Space Station. "This space mission is propelling us to new heights as we give life to our vision of 'redefining humanly possible,'" says University provost Mark L. Tykocinski.
Visit Jefferson
Our campuses are tradition-breakers and beautiful places to learn. We cross the city and the suburbs. From our vibrant Center City campus to our East Falls grounds and beyond, each location offers a unique learning environment to experience all that is Jefferson.
Updates on Our Spring 2021 Semester
Coronavirus (COVID-19) Information
The health and safety of the Jefferson community are of the utmost importance to us. As we continue to closely monitor the coronavirus (COVID-19) impact on our students, faculty and staff, our dedicated site contains updates to the Jefferson community and general information about COVID-19. 
Celebration of Innovation
The full breadth of students' talents and ingenuity took center stage at this year's Celebration of Innovation. The May 5-6 virtual event highlighted seven diverse projects that featured interdisciplinary collaborations from across the University. From creating a cookbook system that teaches people with intellectual disabilities to cook, to COVID-19 volunteering and training initiatives, students transformed their ideas into practice to make the world a better place.
Fashion Design Film 2021
Buoyed by student creativity and strength at a time when it's not possible to host an annual in-person fashion show—the showcase event of their graduating years—May 8 saw the virtual premiere of the program's first-ever Fashion Design Film. "Our students are resilient and they have the ability to create the most beautiful work in some of the darkest times," says Farai Simoyi, fashion design program director.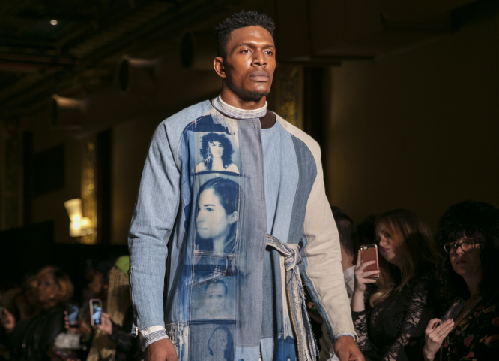 Fashion Students' Collections Shine at New York Fashion Week
Two Jefferson fashion design students were invited to showcase their work at the Designers' Premier show as part of New York Fashion Week in February.