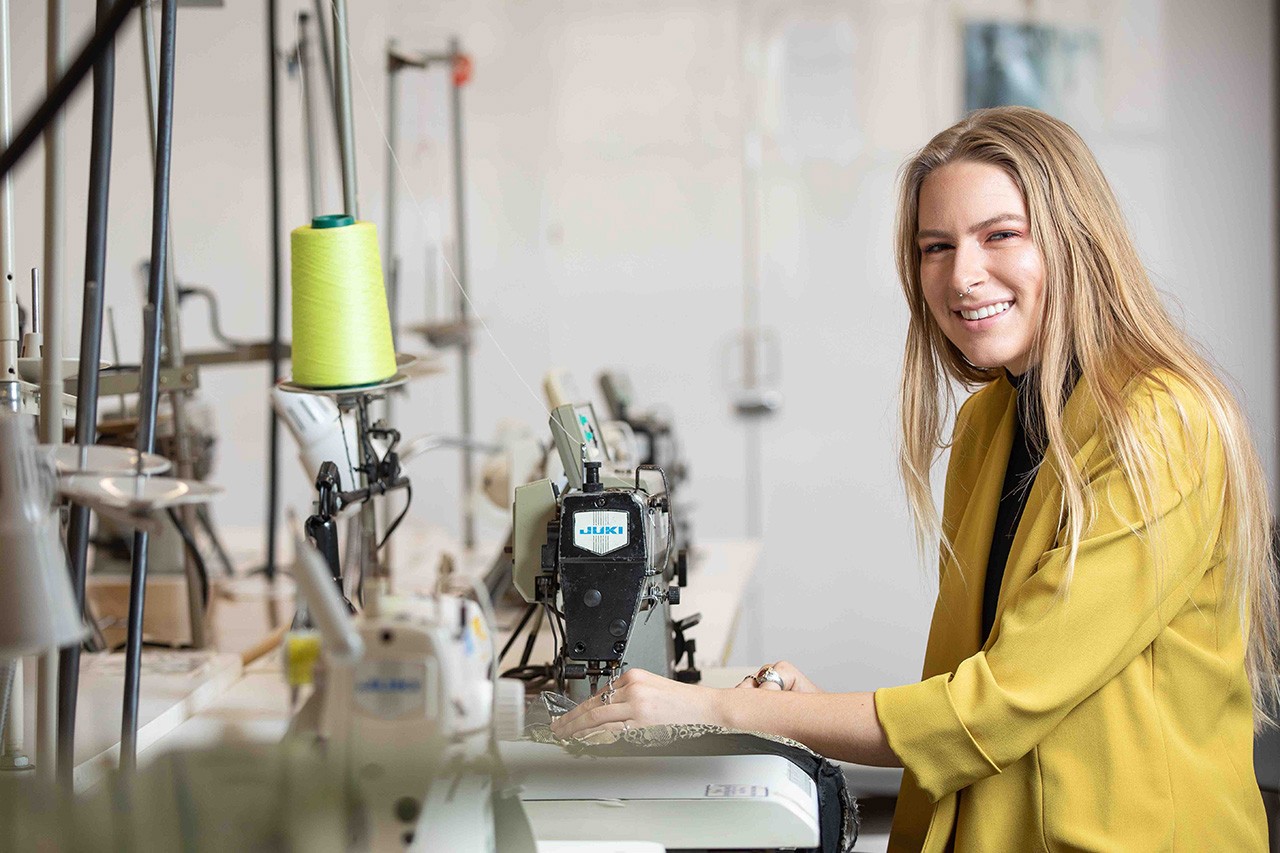 Fashion design senior Kinley Lingenfelter won the FSF award for the third time.
Students Honored by Fashion Scholarship Fund
Eight Jefferson students have earned scholarships from the prestigious Fashion Scholarship Fund (FSF).
Of the 55 participating programs, only one other school had more winners than Jefferson, says Carly Kusy, fashion design professor. The FSF received 650 submissions from across the country.
Four Jefferson students won the $7,500 FSF Scholarship: fashion design juniors Hannah Holton and Claire Puhalski and senior Kinley Lingenfelter; and fashion merchandising and management senior Emily Miller. An additional four students earned the FSF's new $7,500 Post-Modern Scholarship from top fashion designer Virgil Abloh, creative director of menswear at Louis Vuitton: fashion design juniors Rubye Flowers, D'vyne Gattis and Tiana McCarthy; and industry design junior Desiree Smith.
"This accomplishment speaks volumes about our incredible fashion programs, but more importantly, about our students' talent, dedication and passion," Kusy says. "In a year filled with so much hardship, uncertainty and heightened levels of stress, our students persevered like never before."
For scholarship consideration, students completed a written case study in one of the following four areas:
Merchandising: Develop a socially impactful online and in-store merchandise campaign.
Design and Product Development: Develop a fashion line for the Gen Z consumer.
Marketing Analytics: Improve promotional effectiveness for a fashion brand.
Supply Chain: Develop the supply chain plan for a new direct-to-consumer e-commerce business.
Many student projects were rooted in the desire to build a better future and motivated by social, racial and environmental issues, Kusy says.
"They were nothing short of inspiring," she says. "I'm so proud of Jefferson's unparalleled industry-focused fashion programs and even prouder of the way our students continue to use design as a medium for positive change."
Lingenfelter won the FSF award for the third consecutive year. For her project, Eleutheromania, she created a collection that blends the needs of Gen Z consumers through inclusive, gender-neutral and environmentally friendly fashion.
"The FSF has so many connections and is known throughout the fashion world," she says. "Having this on my resume will definitely help me get the attention of potential future employers and will hopefully help me get an internship or job after graduation."
Along with providing career advice, mentoring and internships to scholars, the FSF awards over $1.2 million each year to support students in all sectors of the industry, including design, merchandising, analytics, marketing and supply chain.