College
Center City Campus
College of Health Professions
Institute of Emerging of Health Professions

Degree Earned
CE Credits
Program Length
2-day Course

Call to Actions
ECMO stands for Extracorporeal Membrane Oxygenation. Extracorporeal is defined as "outside of the body" and a membrane oxygenator is a piece of equipment which acts as a lung to deliver oxygen into the patient's blood.  ECMO is a modified heart-lung machine that does the work of the heart and lungs allowing the organs to rest.
This training is for those interested in managing patients requiring ECMO therapy in the acute care setting. Two days (16 hours) of training by Extracorporeal Life Support Organization's (ELSO) Instructors will feature didactic (4 hours) and hands-on clinical modules (12 hours) based upon the ELSO Standards and Guidelines. Training participants will gain the skills and knowledge necessary for managing the adult populations requiring Veno-Veno (V-V) and Veno-Arterial (V-A) ECMO.
Target Audience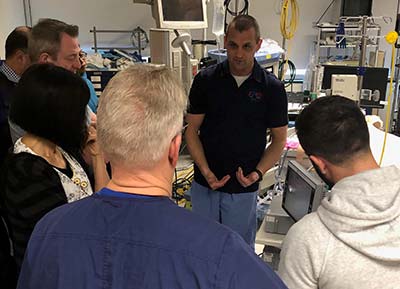 Perfusionists, Nurses (and Nurse Practitioners) with Intensive Care Unit (ICU) experience, Respiratory Therapists (RRT) with exposure to patients on ECMO, Critical Care Physicians, Physician Assistants and Fellows.
2-Day ECMO Specialist Training
This 2-day training program is designed as an ECMO Specialist Training course. Participants have the opportunity for "hands-on" experience.   
Two training offering dates to choose from: 
Date Session 1: October 21 & 22
Date Session 2: October 23 & 24
Price: $2,000
Program Details
Schedule:  Day 1 & 2: 7:30 a.m. - 5:30 p.m.

Topics
ECMO Physiology
Pulmonary ECMO
Cardiac ECMO
Cannulation
Patient and Circuit Management
Simulation Sessions 1-6
Cambria Hotel
219 S Broad St, Philadelphia, PA 19107
Reservations: 215- 732-5500
Double Tree Hotel
237 S Broad St, Philadelphia, PA 19107
Reservations:

215-893-1600 or 1-800-222-8733

Fairfield Inn & Suites by Marriott
261 S 13th St, Philadelphia, PA 19107
Reservations: 215-735-7900 or 1 844-378-8790
Loews Hotel
1200 Market St, Philadelphia, PA 19107
Reservations:

215-627-1200

The Notary Hotel
21 N Juniper St, Philadelphia, PA 19107
Reservations: 215-496-3200 or 1 888-887-8130