ECMO stands for Extracorporeal Membrane Oxygenation. Extracorporeal is defined as "outside of the body" and a membrane oxygenator is a piece of equipment which acts as a lung to deliver oxygen into the patient's blood.  ECMO is a modified heart-lung machine that does the work of the heart and lungs allowing the organs to rest.
This training is for those interested in managing patients requiring ECMO therapy in the acute care setting. Three days of training by Extracorporeal Life Support Organization's (ELSO) Instructors will feature didactic and hands-on clinical modules based upon the ELSO Standards and Guidelines. Training participants will gain the skills and knowledge necessary for managing the adult populations requiring Veno-Veno (V-V) and Veno-Arterial (V-A) ECMO.
Target Audience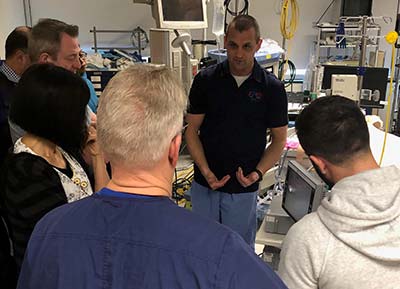 Perfusionists, Nurses with Intensive Care Unit (ICU) experience, Respiratory Therapists (RRT) with exposure to patients on ECMO, Critical Care Physicians and Fellows.
3-Day ECMO Specialist Training
This 3-day training program is designed as an ECMO Specialist Training course. Participants have the opportunity for "hands-on" experience.   
Date: TBD
Price: $2,595
Employee discount available upon request. For more information, email IEHP-Info@jefferson.edu.
Program Details
Schedule
Friday - Sunday: 7:30 a.m. - 5:30 p.m.
(Optional Happy Hour on Saturday starting at 5:30)
Topics
History of ECMO: Past, Present and Future
Weaning and Decannulation from ECMO
ECMO Physiology
Ethics
Cardiac ECMO
Case Study
Pulmonary ECMO
ECMO Economics and Program Development
Introduction to Simulation
Mega Simulation Session 
Circuit Checks
PT and Circuit Management
Indication/PT Selection
Anticoagulation
Cannulation/Initiation
Valet Parking
Valet parking is available for access to the following Jefferson buildings:
Gibbon Building, 11th Street entrance of the Gibbon Building, between Chestnut & Sansom Streets
Main Building & Thompson Building, 10th & Sansom Streets entrance to the Emergency and Trauma Center
925 Chestnut Street, 10th & Ludlow Streets entrance
Self Parking
If you do not wish to use Jefferson Valet Parking Service, there are a number of parking lots and garages in the area. Patients may be dropped off at either the 11th or 10th Street entrance of the Gibbon Building.
Suggested Parking Locations
The University has preferred hotels, with special Jefferson rates: