Asano-Gonnella Center for Research in Medical Education & Health Care
Contact
Department:
Sidney Kimmel Medical College
1015 Walnut Street
Curtis Building, Suite 319
Philadelphia, PA 19107
The Center supports the SKMC faculty and administration in evaluating the knowledge, skills and professionalism of students throughout the Doctor of Medicine curriculum.
The Asano-Gonnella Center for Research in Medical Education and Health Care (CRMEHC) provides support to the faculty in evaluating the knowledge, skills and professionalism of students throughout the Doctor of Medicine (MD) curriculum. It provides information to Sidney Kimmel Medical College (SKMC) administration concerning key indicators used to evaluate the effectiveness of policies related to admissions, curriculum and students' academic progress. The Center continues to receive external support for its health services and policy related research. Center faculty collaborate in scholarly work with other SKMC faculty and publish and present medical education and health services research projects in U.S. and international journals and at scientific meetings.
Our faculty and staff have qualifications and professional experience in biostatistics, psychometrics, medical education assessment, evaluation of quality of health care, development and application of severity of illness methods, risk adjustment, health care financing and institutional research. 
Compassionomics 101: How Kindness Can Make a Big Difference in Health Care
When doctors show compassion, patient outcomes improve and health costs drop.  Dr. Hojat, founder and creator of the Jefferson Scale of Empathy discusses the importance of empathy in patient care.
National Norms for the Jefferson Scale of Empathy: A Nationwide Project in Osteopathic Medical Education & Empathy
The study is the first of its kind to measure and examine reported empathy levels of students from 41 different osteopathic medical colleges, branch campuses and teaching sites.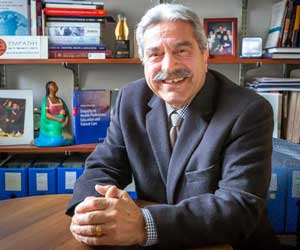 Areas of Research
The Jefferson Scale of Empathy (JSE) was developed by Dr. Mohammadreza Hojat and his colleagues at the Center to measure empathy in physicians and other health professionals (HP - version), medical students (S - version) and health professional students (HPS - version).
This Instrument was developed to measure the problem solving skills of medical students, but was later used to document the quality and cost of care in California. Because of that work, the Center received a large federal grant to further develop the classification and stages of diseases.
This Study is the most comprehensive, extensive and uninterrupted tracking system of its kind maintained in a single academic medical center. It was implemented in 1970 with the intention to track all medical students at Thomas Jefferson University throughout their medical education and professional careers.
The Center works with the faculty to assess the effectiveness of the curriculum and its outcomes. In addition to the Longitudinal Study of Medical Education, this support involves maintenance of cumulative data bases for preclinical examinations in ExamSoft, NBME subject examinations, clinical skills assessments and students' ratings of clerkship experiences at affiliated clinical sites. Over the past five decades this support has fostered collaboration in medical education research on issues of concern to medical educators worldwide, yielding empirical evidence published in hundreds of peer-reviewed articles. 
The Scales are instruments which were developed for the assessment of professional development of health professionals in-training and in-practice, and for evaluation of educational outcomes.
The Center receives external funding to support its health services and policy related research and quality improvement initiatives.