College
East Falls Campus
College of Humanities & Sciences
Degree Earned
Bachelor of Science
Call to Actions
Contact Information
Program
Positions:
Director & Associate Professor, Law & Society Program
Director, Arlen Specter Center
Position:
Law & Society Program
What is the Law & Society Program?
We investigate issues and institutions through the lenses of law, sociology, criminology, psychology, ethics, economics, culture, science, history, politics and political science. We build critical thinking skills and communications skills while we effectively debate. We actively examine legal systems, courts and conceptions of justice and human rights within both the American and international contexts. We examine and discover the reliable evidence while weeding through the false narratives and fake news.
Jefferson's Law and Society is a superior program, but in our program we don't make claims, we prove them. Learn more about what our students and alumni have to say.
In the Law and Society Program you will:
explore your interests in mock trials  and moot court
lead current event discussions during the Roxboro Roundtables national podcasts
write for the widely read Digital Voice the Law & Society Journal
express your political opinions if not host your own show on  multiple media outlets including WPHU
experience real world internships in Congress, the US Senate, the GOP, the DNC, the UN, FBI, ATF, the Prosecutor's Office, law offices and non-profit organizations dedicated to helping the unfortunate and protecting civil rights
Recent News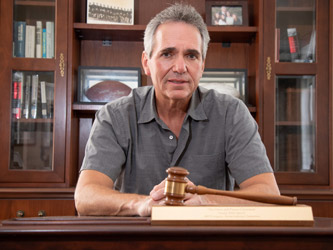 Program director Evan Laine explores the significance of conspiracy theories.
How 9/11 'Truther" Conspiracy Theories Fueled the War on Reality | Opinion
Conspiracy theories blaming George W. Bush for the Sept. 11, 2001, terrorist attacks have been debunked, yet millions of Americans still believe them. Watch program director Evan Laine's opinion piece with the Washington Post.
Law and society program director breaks down Section 230 debate.
Employment Opportunities
Armed with superior writing and arguing skills, our students...
are successful lawyers having graduated top tier law schools
serve as law enforcement officers on the local, state and federal levels
work as paralegals
earn MBAs and work in industry and non-profit organization
are entrepreneurs
serve as legislative aides to the US Congress and Senate
earn degrees in psychology and counseling
become college administrators and teachers