Bachelor of Landscape Architecture
College
College of Architecture & the Built Environment
Degree
Bachelor of Landscape Architecture
Contact Information
Program
Position:
Program Director & Associate Professor
Connect with Us
What Is Landscape Architecture?
Landscape architects are instrumental in the design of healthy and equitable cities and environments. We consider impacts on the environment from climate change and natural disasters as well as the health of humans and wildlife alike. We design parks, gardens, streetscapes, and restore habitats — while architects are designing buildings and landscape architects design everything else!
In our accredited program, you will learn to be not only a responsible and creative designer who listen, build trust and advocate for the environment but also a leader in the profession. Our design process is equitable, inclusive and creative. Design real-world projects that are resilient, sustainable and beautiful in our award-winning program. Our students receive job offers and begin careers at some of the best firms, nonprofits and public agencies, such as, OLIN, Jonathon Alderson, Philadelphia Water Department, Aramark and many others!
Our real-world approach offers students pathways into the landscape architecture profession by working in professional offices as interns for credit or as paid interns with our faculty on research and design projects during the semester or over the summer. Research and design side by side with your professors, all the while healing the environment!
The Bachelor of Landscape Architecture is a STEM-designated program (CIP Code 04.0902).
Redefining Possible ...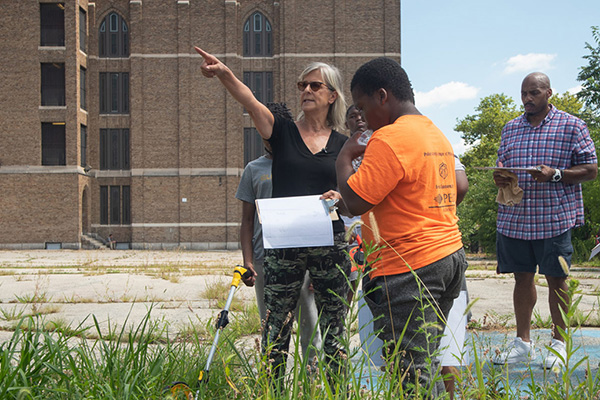 ... by Creating More Green Spaces
The city of Philadelphia boasts that 95% of residents have a park within a 10-minute walk from their homes, though many are underdeveloped and the distance is too far for many to walk. Kim Douglas, director of our landscape architecture program, has been working to disrupt the status quo. 
Media & More
Be part of the change you want to see!
"I had the pleasure of interviewing, and subsequently hiring a Jefferson Landscape Architecture student. I just wanted to say how impressed we were with her portfolio, and the quality of projects arranged through [Jefferson's] program. We were particularly struck by the human connections, and the understanding that our work is about communities and people."
—David W. McConnell, RLA, CPSI
NYC Parks - Olmstead Center
"I chose Jefferson's Landscape Architecture program because it offered a more intimate environment that you don't get at other schools. You really get that one-on-one relationship with your professors. The curriculum allows you learn a multitude of things, from storm-water management, to historic preservation, to urban parks, and streetscapes; anything you can think of. I felt that I was really able to develop my skills through real world experiences."

—BLA graduate
To request more information about the Landscape Architecture Program or to schedule a tour, please email Kimberlee Douglas, Program Director of Landscape Architecture Program, or call at 215-951-0115.

Program Highlights
Learn from world class, award-winning instructors from top firms like OLIN, WRT, Jonathan Alderson, and Groundswell Design Group.
Use the city of Philadelphia and Fairmount Park as your outdoor classroom, and gain real world experience working on projects like Park in a Truck. Work with communities to plan, design and build projects.
Studio classes have a 9:1 student to teacher ratio, giving students direct access to top professionals.
Gain leadership skills by participating in our Park Ambassador program, training high school students to program and maintain Park in a Truck parks.
Our 4+1 program gives students the opportunity to earn their MS in Geodesign with just one additional year of study.
Our landscape architecture students are guaranteed internship opportunities at firms throughout the Philadelphia area. Students also benefit from the vast networks our faculty provide.
Over the past few years our program has boasted a 100% grad school and job placement rate.
Access to world renowned landscape architects, such as OLIN's Laurie Olin lecture. Listen to the recording here!
Explore Related Opportunities