Jefferson Postdoctoral Association
2021 - 2022
Kristen C. Davis 
President
Kristen is a Neuroscientist from central Virginia. She attended Longwood University in Farmville, VA, where she received a B.S. in Biology and Psychology. Before graduate school, she was a PREP scholar for one year at Virginia Tech in Blacksburg, VA. She received a Ph.D. in Neuroscience from the Medical College of Virginia at Virginia Commonwealth University. She completed her first postdoctoral position at the University of Pennsylvania. Kristen began her second postdoctoral position with Dr. Timothy Mosca at Thomas Jefferson University in 2020 to study the neural circuits that process olfactory stimuli in Drosophila melanogaster. Prior to her work in the Mosca lab, Kristen completed much of her training either working with humans or the microscopic nematode Caenorhabditis elegans. Having just joined the lab, she is excited to learn a new model system and the techniques employed to best utilize the fly for neuroscientific discovery.
Sruti Patoori 

Senior Vice-President 
Sruti Patoori is interested in gene regulation during vertebrate development. She is a proud product of the great state of New Jersey, where she attended Rutgers University to earn her B.A. in Genetics with a minor in Evolutionary Anthropology. She then earned her PhD from the City University of New York, where she conducted her doctoral work under the guidance of Dr. Mark Emerson at the City College of New York in Harlem. Her doctoral work focused on identifying gene regulation elements that mark specific progenitor populations in vertebrate retinal development and understanding how evolution has acted on gene regulatory networks to alter the ratio of different retinal cell types. Sruti continues to work on neuronal progenitor cells as a postdoctoral researcher with Dr. Marco Trizzino at Thomas Jefferson University. She is interested in understanding how gene regulation in human hippocampal progenitor cells differs from that of chimpanzee hippocampal progenitors and whether this has any implications for understanding human evolution.
Daniela Muoio  
Vice-President Communications
Daniela received her Bachelor's in Biological Science in 2012 and Master's in Biology for Molecular and Cellular Research in 2015 from University of Roma Tre, Italy, under the guidance of Dr. Antonio Antoccia, working on telomere maintenance mechanisms in cancer transformation. In 2015, she continued her Ph.D. study in the laboratory of Dr. Antoccia, where she started working on a project concerning the effects of G-quadruplex-stabilizing agents, NDIs and RHPS4, on telomeres. During her Ph.D., she went on investigating the possibility to induce telomere dysfunction in cancer cells with the help of those small molecules able to bind DNA secondary structures called G-quadruplex, which forms in genomic regions rich in guanine such as telomeres. Daniela was awarded her doctorate degree in 2019. Daniela joined Elise Fouquerel's lab at Thomas Jefferson University in July 2019. In her current project she is trying to decipher the role of PARP enzymes in the preservation of telomere integrity.
Elham Javed
Vice-President Social Affairs
Elham Javed has a very diverse background; she is an Indian national born and raised in the Dubai, UAE and came to USA for her masters in Molecular Medicine at Drexel University. She was doing an off-campus CPT at Jefferson university in the neuroscience department which is why following her master's graduation she pursed her PhD in Jefferson University at Center for Translational Medicine. She is now currently working as post doctoral fellow under Raymond Penn. Her research is focused on on understanding the mechanism behind differential compartmentalized signaling induced by β2AR and PGE2 receptors in human ASM.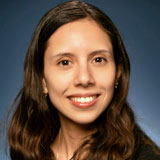 Melissa Molho Medina 
Vice-President of Career Development
melissa.molhomedina@jefferson.edu
Melissa Molho is originally from Mexico, where she got her bachelor's degree in Genomic Sciences from the National Autonomous University of Mexico. In 2014, she moved to the US to do her Ph.D. in the Plant Pathology Department at the University of Kentucky (UK). During her Ph.D., she studied virus-host interactions in plants, specifically the role of the actin network in viral infection. She was also part of the UK graduate Student Congress leadership team and advocate for international students. 
In 2021, she joined Dr. Ramage's lab as a postdoctoral fellow in the Microbiology Department at Thomas Jefferson University. Currently, she is studying virus-host interactions of emerging infectious diseases focusing on flaviviruses such as Dengue, Zika, West Nile, and Powassan viruses. Melissa likes doing outreach activities to talk about plant health, viruses, and inclusion in science.
Fnu Nikita
Vice-President Elections and Nominations
Nikita earned her MD in India followed by an MPH with a dual major in Epidemiology and Biostatistics at the Boston University, and is currently a postdoctoral research fellow in Dr. Lu-Yao's lab in the Department of Medical Oncology at Jefferson. Her current research is focused improving clinical outcomes among patients with cancer using big data and real-world evidence. She was awarded the AACR Scholar-in-Training Award in 2020 followed by the ASCO Conquer Cancer Merit Award in 2021. Previously, she was also awarded the Jefferson Postdoc Travel Award to present her findings on the incidence of septicemia among prostate cancer patient at the International Society of Geriatric Oncology (SIOG) conference in Geneva, Switzerland 2019. She is passionate about reading, scientific writing and traveling.
Mohamed Tantawi
Treasurer
Mohamed graduated medical school in Egypt in 2017. He worked as a primary care physician before moving to the US to join Thomas Jefferson University in November 2018. He worked for a year in the Neurosurgery department under the supervision of Dr. Chengyaun Wu, where he contributed to several functional neurosurgery and neuroimaging research projects involving epilepsy patients. In 2020, he moved to the radiology department to work in ultrasound and body imaging research under the supervision of Dr. John Eisenbrey. His current work focuses on using ultrasound contrast agents in augmentation of radioembolization therapy in liver cancer patients, as well as early prediction of the treatment response.
Aylin Tahmasebi
Secretary
Aylin is an MD from Iran, she has lived in countries spanning four continents in pursuit of her medical education and clinical experiences. Currently, her focus is on the application of Artificial Intelligence in Radiology, ultrasound Elastography, and Microbubble contrast. She joined Thomas Jefferson University for her post-doctoral fellowship under the guidance of Dr. Eisenbrey. She believes Jefferson Postdoctoral Association (JPA) not only was a great influence on her career development planning but also in getting acclimated as an international postdoc. The support she received from JPA and the Jefferson office of postdoctoral affairs during the Covid-19 pandemic motivated her to have a role in JPA.