Jefferson Postdoctoral Association
Officers 2019-20
Giacomo Casella 
President 
Giacomo is from Italy and he earned his Master in Neuroscience in at University of Trieste. He acquired his PhD in molecular medicine at Ospedale San Raffaele in Milan in 2017. His PhD project involved characterizing and using engineered extracellular vesicles as possible therapeutic tool in neuroinflammation. In October 2017, he joined Thomas Jefferson University and he works as Postdoctoral fellow in Dr. Abdolmohamad Rostami's laboratory. His scientific interest involves the biology of extracellular vesicles and their immunological mechanisms related to Multiple Sclerosis.
Larissa Ishikawa
Senior Vice-President 
Larissa Ishikawa is from Brazil where she earned her Bachelors in Biomedical Sciences from Sao Paulo State University (UNESP). Her Masters and PhD in Infectious and Parasitic Illnesses from Botucatu Medical School and Postdoctoral training at the Department of Microbiology and Immunology from the Institute of Biosciences of Botucatu (UNESP).  In 2018, Larissa joined Dr. Rostami's lab as a Postdoctoral fellow in the Department of Neurology at Thomas Jefferson Hospital for Neuroscience. She has been working in the Immunology field focusing on immunomodulation in experimental models for autoimmune diseases. Currently, Larissa studies the mechanisms involved in the immunopathogenesis of experimental autoimmune encephalomyelitis, a mouse model for Multiple Sclerosis.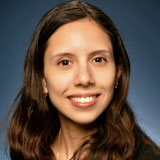 Brigid Jensen
Vice-President Elections and Nominations
Brigid Jensen is a Pennsylvania native, growing up in West Chester and moving to Philadelphia after graduating with her Bachelor's degree in Molecular Biology-Biochemistry & Neuroscience from the University of Pittsburgh. She performed her doctoral thesis in Neuroscience at the University of Pennsylvania, and began her work as a postdoctoral fellow at the Jefferson Weinberg ALS Center in November 2015. Brigid is interested in better understanding the molecular mechanisms underlying ALS, specifically the breakdown of synaptic communication between motor neurons and muscle, as well as the contribution of glial cells to disease progression.
Xi Chen
Vice-President Career Development
Xi Chen received her master's degree of internal medicine in Xi'an JiaoTong University, China. She then moved to U.S. and earned her Ph.D. degree of pharmacology in University of Miami. Currently she is a postdoctoral research fellow in Cardeza Foundation for Hematologic Research, working on negative regulations of G-protein coupled receptors in platelet signaling. Xi is passionate about organizing events, seminars and other activities to serve Jefferson postdocs in their career development.
Ankit Rochani
Vice-President of Communications
Dr. Rochani is a Pharmacist from India. He received Ph.D. in Bio Nano Science Fusion from Toyo University, Japan. He is working as a research fellow at Dr. Gagan Kaushal's laboratory in the Department of Pharmaceutical Sciences, Thomas Jefferson University (TJU). His field of expertise involves formulation development, proteomics, metabolomics, nanodrug delivery, PK/PD and mass spectrometry.  At JPA he is mainly responsible for developing Jeff post and communicating various scientific and nonscientific events organized by JPA on social media platforms. He is also Editor-in-Chief of PSERT.  
Daniel Rubinstein
Vice-President Social Affairs
Dani is primarily interested in math and cognitive science, which he studied first in college at Cornell University. He then returned home to Maryland to earn his PhD in Neuroscience from the NIH/Brown University Graduate Partnership Program, researching in Dr. Karen Berman's lab the relationship between dopamine and brain oscillations in schizophrenia. Most recently in 2018, he joined Dr. Shennan Weiss's Computational Epilepsy Lab as a postdoctoral fellow here at Jefferson, where he investigates neurophysiological biomarkers of human memory formation, specifically focusing on high frequency gamma oscillations.
Liliana Camarillo-Rodriguez
Treasurer
Liliana completed her doctoral training in Cognitive Neuroscience at the National Autonomous University of Mexico (UNAM), where she studied the neural correlates of tactile perception in the somatosensory thalamus. Currently, she is a Postdoctoral Research Fellow in the Computational Epilepsy Lab. Her research aims to study the impact of interictal spikes and different types of high frequency oscillations on episodic memory.
Angelica Zamudio- Ochoa
Secretary
Angelica earned her bachelor degree and PhD at the National Autonomous University of Mexico (UNAM). During her PhD she studied mitochondrial translation by characterizing protein-RNA interactions between translational activators and its target mRNAs. She then moved to Philadelphia and joined Dr. Temiakov's lab as a postdoctoral fellow, where she now studies human mitochondrial transcription and replication. She has always been amazed by the mitochondrial genome and looks forward to the day we can finally understand the mechanisms needed for its expression.