Jefferson Comprehensive Epilepsy Center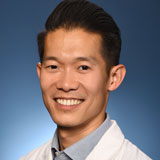 Leadership
Positions:
Director, Division of Functional Neurosurgery
Professor of Neurological Surgery & Neurology
Vice Chair of Clinical Operation Neurosurgery
Program Director for Residency in Neurological Surgery
Division Chief, Epilepsy and Neuromodulatory Neurosurgery
Jefferson Comprehensive Epilepsy Center - Surgical Division
This is a multi-disciplinary program for epilepsy with one of the largest referral bases and clinical volumes in the country, providing a variety of surgical and non-surgical approaches to epilepsy. Within the past year, eighty-nine epilepsy surgical cases have been performed. Residents are exposed to the essential elements of seizure management, reading and interpreting EEGs, deciding on medical versus surgical management and operative approaches to epilepsy.

More patients with epilepsy disorders are treated at Jefferson than all other programs in Philadelphia combined. The current research interests of this program include clinical trials for antiepileptic drugs, nerve stimulation and deep brain stimulation as a treatment for seizures, mathematical models of neural activity, investigations on genetics of and gene therapy for epilepsy, and biochemistry of receptors and neurotransmitters implicated in the pathogenesis of epilepsy.