Career & Alumni Highlights
Contact Information
Program
Position:
Program Director
Connect with Us
---
Business of Fashion 2019 List

---
---
Fashionista 2019

---
Career Highlights
Employers hire Thomas Jefferson University graduates for their unparalleled skill-set and their ability to hit-the-ground running from day one, including:
Urban Outfitters
Anthropologie
Tommy Hilfiger
Calvin Klein
Lilly Pulitzer
Abercrombie & Fitch
Nike
Old Navy
Eileen Fisher
Carter's/ OshKosh
Gap
QVC
American Girl
Children's Place
Outerstuff Ltd.
G.K. Elite Sportswear
Coach
Intradeco
American Eagle
Intimissimi
SewRob
Athleta

Free People
PVH Corporation/Van Heusen
HUGO BOSS
Michael Kors
Li & Fung
Hollister Co.
Under Armour
Adidas/ Reebok
Victoria's Secret/ PINK
Echo
L.L. Bean
Zara
David's Bridal
J. Crew
Spencer's Gifts & Spirit Halloween
A&H Sportswear Co. Inc.
Timberland
The Real Real
H&M
Kate Spade
Tory Burch
Speed
Selected Alumni Highlights
TJU alumni are leading in all areas of the fashion industry, check out a couple selected stories to see where you might be in a few years:
Career & Alumni Highlights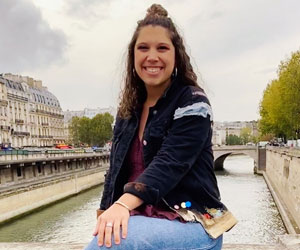 Brittany DeColli - '16
Brittany Decolli '16 is a Product Development Manager for Women's Retail Leather Goods at Coach, working in the new Hudson Yards area in NYC. Brittany landed a job at Coach only three months after graduating through a good friend that is also a Thomas Jefferson University Fashion Design Alum. In her role as Product Development Manager, Brittany uses the foundational knowledge she received at the school as a framework to build upon as she advances in her career. Since August 2016, Brittany has helped develop product for two Runway Shows, four Look Books, and four Retail Collections. She has even had the opportunity to work on some more special-edition campaigns, such as the "Dark Disney" line launched by the brand in 2018.

Brittany chose to study Fashion Design at Thomas Jefferson University for a number of reasons. Course material and the overall design curriculum excited Brittany, as did the opportunity to study abroad her junior year in Rome. The Fashion Design faculty was another big factor in Brittany's decision to study here. Faculty mentors with industry experience, as well as a well-connected Career Services Department, provide expert knowledge and support so that students can graduate and be ready to succeed in the fashion industry. 
Jenna Hanson - '14
Jenna Hanson '14 is a Technical Developer for Nike, responsible for the fit and development of Men's Tennis Apparel. Her daily tasks include correcting fit issues, patternmaking, 3D prototyping, and problem solving. Prior to her time with Nike, Jenna worked as a Technical Designer at Under Armour for 5 years and gained a skillset that was grounded in her Thomas Jefferson University Fashion Design education. The industry-focused curriculum and emphasis on collaboration with other departments at the school provided her with crucial technical skills that formed the foundation for a successful career. In her free-time, Jenna liked to research advanced patternmaking techniques, work on her own patterns and sewing projects, and take advantage of volunteer opportunities to plant trees and do her part to fight global climate change. 
Christine Michalek - '13
Christine Michalek '13 is a Senior Product Developer at Under Armour in Hong Kong. She began her post-college career at the company as an assistant technical designer working on professional international soccer and rugby uniforms at the company's Baltimore, MD headquarters. Her early experience at Under Armour also saw her working on the Olympics product category, where she worked on a variety of products including Olympic sport uniforms, retail product, and even Virgin Galactic space kits. Managing the development of such a wide range of products has allowed Christine to partner closely with Under Armour's Innovation Center and specialize using 3D pattern software. Her experience has allowed her to travel the globe fitting top focused performer athletes, including Lindsey Vonn and the US boxing, bobsled, and speedskating teams, as well as attending memorable events such has the Rio and PyeongChang Olympics. Christine is even listed as a designer on a patent for the US Longtrack Speedskating team uniform!
Christine is currently living in Hong Kong and manages a team of developers in the APAC Under Armour headquarters focused on product categories ranging from graphic tees to technical outerwear and is responsible for fit for the global and Asian markets. She continues to work closely with Baltimore based partners at Under Armour in leading new initiatives within supply chain and training apparel/ accessories vendors across southeast Asia.
Christine credits Thomas Jefferson University's fashion design program for teaching her to be adaptable and problem solve creatively, skills she finds necessary for success in her job. The real-world collaborative experience and mix of creative and technical training offered through Thomas Jefferson University's fashion design program prepared her for industry success and innovation.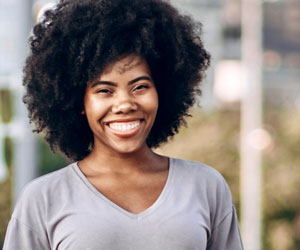 Alicia Pickney- '13
Alicia Pickney '13, is a designer for Timberland working on special collections in Switzerland.
Alicia was born and raised in Philadelphia to a family with a great appreciation for art and music. From an early age, Alicia used creativity as an outlet to express herself and decided that she wanted a career in fashion. Alicia chose to pursue her undergraduate education at Thomas Jefferson University because of its small class sizes and attention to developing proper technical skills. In her time at the school, Alicia participated in multiple runway competitions and was an active member of the Black Retail Action Group (BRAG) on campus, an organization which connections black students and industry professionals to create a network of support through internship and networking opportunities. After a short time working in New York City, Alicia decided she was not fulfilled and was ready for a new challenge. She was awarded a scholarship through Vogue Italia to study for her Master's degree in Italy at the Domus Academy. From there, Alicia has worked for numerous Italian brands as well as Adidas in the United States.
Alicia, with Timberland, recently collaborated with British menswear designer Christopher Raeburn on his Spring 2019 collection shown at London fashion week. She currently works under VF International for the Timberland brand, living and working in Switzerland. 
Mike Ternosky - '00
Mike Ternosky '00, is head designer for the influential OBEY Clothing brand, which specializes in progressive design in apparel and classic streetwear.
Growing up skateboarding and surfing in Avalon, N.J., Ternosky came to Jefferson (Philadelphia University + Thomas Jefferson University) to study fashion design. After graduating, this combination of interests led him to California, where in 2000 he helped establish OBEY Clothing as an offshoot of the work of Shepard Fairey, the famed artist known for his iconic "Hope" poster of President Obama. With Ternosky, he creates designs that represent his influences, ideals and philosophy.
"I had a real passion for the punk-rock, streetwear aesthetic," Ternosky told Jefferson students during a campus visit. He also talked about the importance of having true passion for their work and making sure they have the building blocks to succeed.
"I learned key technical things at this school," Ternosky said of Jefferson. "A strong foundation is essential."
He received the University's prestigious Spirit of Design Award at the 2016 Fashion Show.
Danni Penska - '04
Danni Penska '04 is the Fashion Design Manager over trend, RJS, swim, and cover-ups at Lilly Pulitzer. Danni grew up outside of Philadelphia and spent her high school years attending some fashion design classes in the city, having already decided fashion was her calling. After high school, Danni moved to NYC to study for her associate's degree in fashion design. While for her associate's degree, Danni studied abroad at the American University of Rome, where she was introduced to Thomas Jefferson University students also studying there and their fashion design curriculum. Danni fell in love with the fashion design program offered at Thomas Jefferson University, and upon returning to the United States, she transferred into the fashion design program here to earn her bachelor's degree. Danni has held jobs at local companies such as QVC, Free People, Nicole Miller, and Anthropologie. Around 2008, Danni was recruited to work for the design team at Lilly Pulitzer and has been working there ever since. She has worked on everything from women's' separates to swim and kids and almost all categories in between. In her time at the company, she has worked her way up from associate designer, to designer, to senior designer, and finally to design manger.
Danni's role at Lilly Pulitzer now focuses on brand identity, external and macro trends that affect the business, and coaching younger designers in the Lilly Pulitzer brand aesthetic. Her daily tasks include photoshoot outfitting, annual fashion marketing planning and strategy, and building lines that take the Lilly Pulitzer customer forward in fashion. She travels around the world building relationships with licensing vendors and working cross functionally among merchandisers, technical-marketing, and product development. When she is not at work, Danni lives in Ambler and enjoys spending time with her husband and three children. 
Ann Yee' 04
Ann Yee, a graduate of the Fashion Design program has had her designs featured in various publications, from Women's Wear Daily to Elle Magazine. Her ready-to-wear women's fashions are known for their architectural edge and effortless drapery.
Although a native to Michigan, Ann's childhood trips to Hong Kong, her parent's native country, were her initial inspirations for entering the fashion industry. While studying in the Fashion Design program, she interned both in New York with designer Jill Stuart, and in London with Ebru Ercon.
Ann Yee was hand selected as one of Gen Art's Fresh Faces in Fashion for Spring 2012 and presented her collection at New York Fashion Week. You can keep tabs on her exciting development at annyeecollection.com.