Neuroradiology Fellowship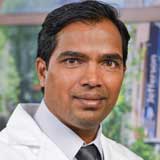 Leadership
Position:
Program Director
132 South 10th Street
Suite 1087, Main Building
Philadelphia, PA 19107
For Program Information
Position:
Program Coordinator
The Neuroradiology/Head and Neck Radiology Fellowship is a one-year program with a total of three fellows. One fellow can spend an additional year at The Children's Hospital of Philadelphia in a combined adult-pediatric program. The Division has access to two state-of-the-art digital angiography suites, myelography suite, five CT scanners (including three multidetector units), nine 1.5 Tesla MRI units, two open MR units, and a 3T MR unit is being installed.
Extensive training is given in interpretation of plain films, CT, CT angiography, and MRI examinations, as well as in the technical aspects and interpretation of myelograms, neuroangiograms, and interventional neuroradiologic procedures. Film interpretation and reporting are conducted daily under the guidance of the neuroradiology staff. In addition, there is a rotation for each fellow at the Children's Hospital of Philadelphia for concentrated, in-depth experience in pediatric neuroradiology. Consultation with referring physicians from Neurology, Neurosurgery, Orthopedic Surgery, Head and Neck Surgery, Rehabilitation Medicine, Medical Oncology, and Radiation Oncology is an ongoing responsibility and learning opportunity. There is weekly active participation in Neurosurgery Grand Rounds, Neurology Grand Rounds, Stroke Conference, Brain Tumor Conference, ENT Grand Rounds, Head and Neck Tumor Conference, as well as two weekly Neuroradiology Conferences for residents and a weekly conference with the clinical staff of the Regional Spinal Cord Trauma Center based at Thomas Jefferson University Hospital. An extensive teaching file of proven examples of neurologic abnormalities is available. Ample opportunities exist for research at the clinical level.