Jefferson - Virtual Campus
2020 Session
June 22 - July 20, 2020
After careful consideration and consultations with our university leadership, faculty and staff, we have decided to move our SummerScience@Jefferson summer program to our online, Virtual Campus for Summer 2020. We are excited to welcome you to our online program that has been re-designed to maintain the world-class academics you expect from Jefferson by providing an engaged and active-learning experience while working remotely with our faculty and SummerScience@Jefferson team. 
Online participation will be limited to 30 students. While a new simplified online application is required for the revised program, students who did not previously submit complete written applications to SummerScience@Jefferson 2020 will not be considered for transition to the online program.
Eligibility: high school juniors or seniors at the time of application.
Now Accepting Online Applications for the
2020 Virtual Program
JUNE 12, 2020 - Application Deadline
For more detailed information, including costs and payment options:
(accepting major credit cards only)
Innovative science is still ongoing and taking place on Jefferson's virtual campuses. Through this program — designed for high school juniors and seniors — you can virtually participate in ongoing research projects. Working with Jefferson faculty, partners, postdoctoral scholars, and students, you'll build your proficiency in real-life research practices.
To cap off your experience, we will host our Summer Science Symposium Day, during which you'll prepare and make formal presentations on a topic that you have gained during the summer program. SummerScience@Jefferson brings together faculty from across our College of Life Sciences programs.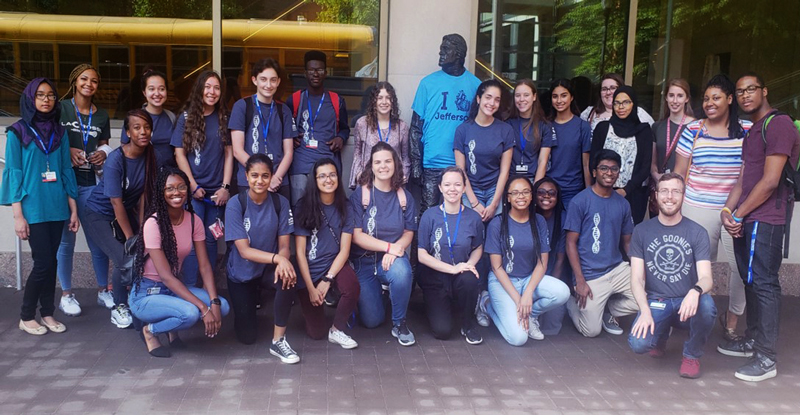 Please note that the SummerScience@Jefferson for the 2020 session will be virtual. Daily internet access is required.
Topics include:
Forensic Science, Genetics & Molecular Biology, &
Clinical 3D Printing
Students will be introduced to the exciting world of clinical 3D printing. They will have the opportunity to go on a tour of Jefferson's Health Design Lab where they will learn and explore ways in which scientists are currently integrating sustainable 3D printing into a wide array of medical and educational applications to benefit human health. Students will immerse themselves into the suspenseful world forensic science. They will carry out mock criminal investigations as junior forensic scientists, analyzing and solving a variety of cases. These cases will incorporate a wide array of forensic science applications, such as forensic biology to analyze blood and DNA evidence, entomology to use insects in estimating the time of death, hair and tire track analysis, and forensic chemistry techniques. Students will be introduced to current gene editing tools such as the buzz worthy "CRISPR/Cas9" tool. They will learn about CRISPR technology, current uses, and the many ethical considerations surrounding its use and how ethics and regulations must evolve to keep up with the current and fast-paced advances in science. Students will have the opportunity to carry out a CRISPR experiment in the lab.
Cell Biology & Neuroscience
Students are introduced to the basic facts of cell biology, including cell morphology and physiology, and learn about the macroscopic and microscopic aspects of reversible and irreversible cell injury. Students also study the morphology of cancer cells in comparison to normal healthy cells and learn about apoptosis (programmed cell death) and how cancer cells evade this phenomenon. Laboratory experiences include culturing of bacterial, insect or animal cells, staining of cancer and healthy cells, and learning how to count cells and determine cell viability. Students will explore biological concepts from the single cell to whole brains.  Students will learn the remarkable story of Henrietta Lacks, who is considered the "Mother of Modern Medicine" and how her immortal HeLa cell line has contributed to many major scientific discoveries worldwide, from the development of the polio vaccine to testing the effects of zero gravity on humans in space! 
Anatomy & Molecular Mechanisms of Disease,
Cancer Biology, Microbiology & Immunology
Students are introduced to the etiology and pathogenesis of various diseases such as cancer, AIDS, Diabetes, and infectious diseases, including the Ebola Hemorrhagic Fever, while focusing primarily on genetics, environmental factors, and an introduction to epigenetics. Laboratory experiences include an introduction to immunohistochemistry and ELISA (enzyme-linked immunosorbent assay) to diagnose infections such as HIV. Students may also have the option to perform and/or observe the dissection of animals and human cadavers.
To be added to the mailing list for SummerScience@Jefferson program information, please email La'Verne Webb.