Contact
Position:
Project Director
Overview
The Grandon Society is a membership organization comprised of professionals who are dedicated to transforming the US health care system through collaboration, education and innovation. Members come from community organizations, corporations, government, foundations, nonprofits, professional societies and academia to enjoy the vast professional development opportunities.
The group was named for Dr. ​Raymond C. Grandon, a graduate of Jefferson Medical College (1945) who ​actively practiced medicine in the State of Pennsylvania until the age of 96.  ​Prior to his death in 2018, he was one of the longest serving physicians in Pennsylvania.
The Grandon Society provides opportunities to:
Network and innovate with like-minded professionals who have a deep passion for understanding and influencing the trends and policies that affect the health of populations.
Showcase and share best practices
Participate in exclusive programs and events throughout the year, receive a special member e-newsletter and receive early notice and special registration rates to JCPH conferences and events.
Benefits of Membership
Special member-only meeting with keynote speaker at Annual  Grandon Lecture 
Discounted registration to Population Health Colloquium and other events with an associated fee
Special luncheon for Society members at the Population Health Colloquium
Access to special member-only mixers and events led by the Dean, featuring a special speaker or session topic
Memberships
Special pricing available for: Employees of Nonprofit, Academic, or Government organizations; non-JCPH Pre-professional Students; full-time Jefferson employees; and JCPH Alumni.
Corporate/Institutional Memberships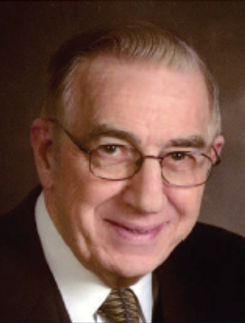 Raymond C. Grandon
1919-2018
Raymond Charles Grandon, MD, a lifelong Pennsylvanian, earned his medical degree from Jefferson Medical College in 1945. He completed a nine month general internship at St. Luke's Hospital in Bethlehem, Pennsylvania, served in the United States Army and completed a residency in internal medicine at the Harrisburg Hospital in Harrisburg, Pennsylvania. Dr. Grandon subsequently entered private practice as a solo practitioner.
An internist with a special interest in cardiovascular disease, Dr. Grandon was responsible for the first televised heart operation in the United States. He was a clinical investigator in cardioactive drugs, the first of which was reserpine for hypertension. Dr. Grandon also helped to coordinate the nation's first commercially successful cardiac rehabilitation program utilizing graded exercise with continuous oscilloscope monitoring.
Dr. Grandon served as a past President of organizations such as Central Pennsylvania Academy of Medicine, Dauphin County Medical Society, the Medical and Dental Bureau of Harrisburg, and the Pennsylvania Society of Internal Medicine. He was past Director of Medical Education at Harrisburg Hospital; and the Founder and past Chairman of the Regional Advisory Group of the Federal Health Program for the Susquehanna Valley Regional Program. Dr. Grandon also served as Clinical Professor at Penn State Hershey Medical Center, Director of Medical Education at Harrisburg Hospital, Medical Director of a skilled nursing facility, and a member of the JMC Alumni Association Executive Committee. Later, he served as a Trustee to the American Society of Internal Medicine.
Long active in voluntary medical and community organizations, Dr. Grandon was also involved with medical issues at the state level; as a member of the Governor's Commission on Alcoholism; as the first Medical Director of the Pennsylvania Health Department's Counseling Center on Alcoholism; as a member of the State Board of Medical Education and Licensure; and as a member of the Health Department's Laboratory Advisory General's Advisory Committee and the Attorney General's Advisory Committee on Drug and Alcohol Problems. At the national level, he served as a committee member of the Federation of State Medical Licensing Boards, and as a Delegate and Trustee of the American Society of Internal Medicine. 
After 65 years of practice serving patients in Central Pennsylvania, Dr. Grandon retired on December 31, 2015. He passed away on December 9, 2018 at Pinnacle Health Harrisburg Hospital at the age of 99, surrounded by his loving family.